We're giving this episode the tagline, "Hateration." Rachel Lindsay chose three men for one-on-one dates and the other three went on a group date that was dating execution style. We gave you our Final Four for The Bachelorette Bracket during our episode 6 recap. Find out how we did and if you picked the right final four for the hometown dates. What did you miss? Check out our video to find out.
In this episode:
– Rachel and her men explore more of Europe. Find out who got one-on-one dates and if they got a rose or were sent home
– Who were the unfortunate guys to be sent home on the execution style date?
– Which guy is afraid to bring Rachel home to meet his family?
– Who are your favorites for the Final Three in The Bachelorette Bracket?
17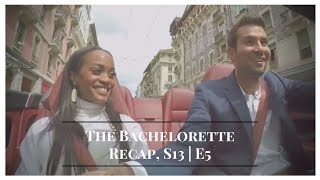 Comments